M
y oldest son, Orion, and I have a question... What gets captured on the cameras of kids? We are quite curious, and they [kid cameras] are out there, right? I mean, we see them advertised like hot cakes, and they are quite pricey (in my opinion), guess that's case they are built like Fort Knox, wish mine was too. So what happens to these cameras? Do they get broken or just get used for the life span of one battery , then stuck in the corner or bottom of the toy box to collect dust? Where have all the pictures gone? Have you ever even taken them off the camera to enjoy the simplistic view of a child? To see what it is they see and praise them for being inventive & capturing an awesome moment. For putting the video games down (though we do not own any) or turning the TV off (this is our sad case) & picking up the camera, going out & using their imagination. Okay, okay that is more than one question, but really we should take the time to explore our children's creative side. To have them learn a process, everything is so "instant gratification" these days, I want my child to learn patience for "his" art, to know not every great shot is taken with the first click of the camera.
M
y point is, art, such a lost form to our children. Make a connection, grab the camera, put a battery in it, get your paint brushes, paint, paper, pen, pencils, or crayons and show us your kids, grand kids, or your form art, your medium, your inspiration! It doesn't just have to be photography, draw or paint a picture to display. Shoot a video in a creative way, make a routine or compose a song. Just let your little one be creative, and see what their imagination congers up! Display it proud for them, I know my son just loves to his photos on the computer. So grab our button from the top of the sidebar to display, go get creative with the kids and come back here to link up and share your own "Toy Story".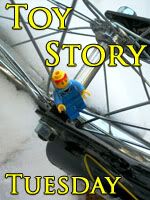 T
his mosaic is what sparked the craze:) Can't wait until he gets home from school today, so I can show him the great work he's done!
H
e really does have an awesome eye for photography and has helped me out many times here lately with very fresh, fun ideas:) When he was shooting these two sets I gave him just slight instruction on the focus, the before and after are phenominally different.
H
e proudly shot the photo for the 'Toy Story Tuesday' button!
E
xcited to see what he comes up with for next week &
I am VERY proud of all the creativity he has shown, especially in the video he shot:)
**Note** No children were harmed during the shooting of this film these marbles...