I
'm participating in a quilt-along over at
i have to say...
, hosted by the lovely Randi!!! She has an awesome Etsy Fabric Shop called
Fresh Squeezed Fabrics
! Head on over and take a look if you already haven't. In my world precuts, bundles, and custom packages are a must, sometimes a Mommy just doesn't have time to stand in line and wait for those fabrics to get cut, let alone the hour it would take just to pick them out! She's got it all ladies!
W

ell, I
was so excited, designed a mock-up blog button that I emailed her for permission to display on my blog. What's a blog button you ask? A blog button is a photo that has an embedded code, so that when other readers click the button they are taken straight to the quilt-along information. Underneath the photo is a scroll bar code I supplied to display the button's code for others to grab, display in their sidebar, and let their readers know to join in on the fun. Anyhoo, Randi liked it so much that she asked if I could design one with the fabric she was using for her quilt as the background. Of course I would! I was completely stunned and floored by her request. I've been an admirer of her blog for quite a while now. Did I mention we traded, my services for a some of her yummy fabric:) She sent the photos and off to work I went! Here's what I came up with: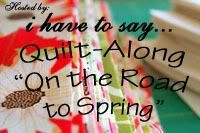 G
rab a button from my sidebar and quilt-along "On the Road to Spring"! A big thanks to Randi for hosting this awesome quilt-along, and for all her patience with me throughout this process! :)
F
or my fabrics (which I did have time to go pick out and stand in line for, thanks babes!) I decided on a palette of yellow, orange, and green, wanted to be able to use in both spring and fall, was inspired by the white fabric with large flower print. Pulled colors from that one piece. Plus my comfort zone is always pinks and blues, as I've only ever really made baby quilts. I'm ready for a new venture for sure! Here's a peek at my fabrics for the quilt-along.
H
appy
Q
uilting-
A
long
E
veryone!!